Annual Learn to Row Day Scheduled for April 22, 2017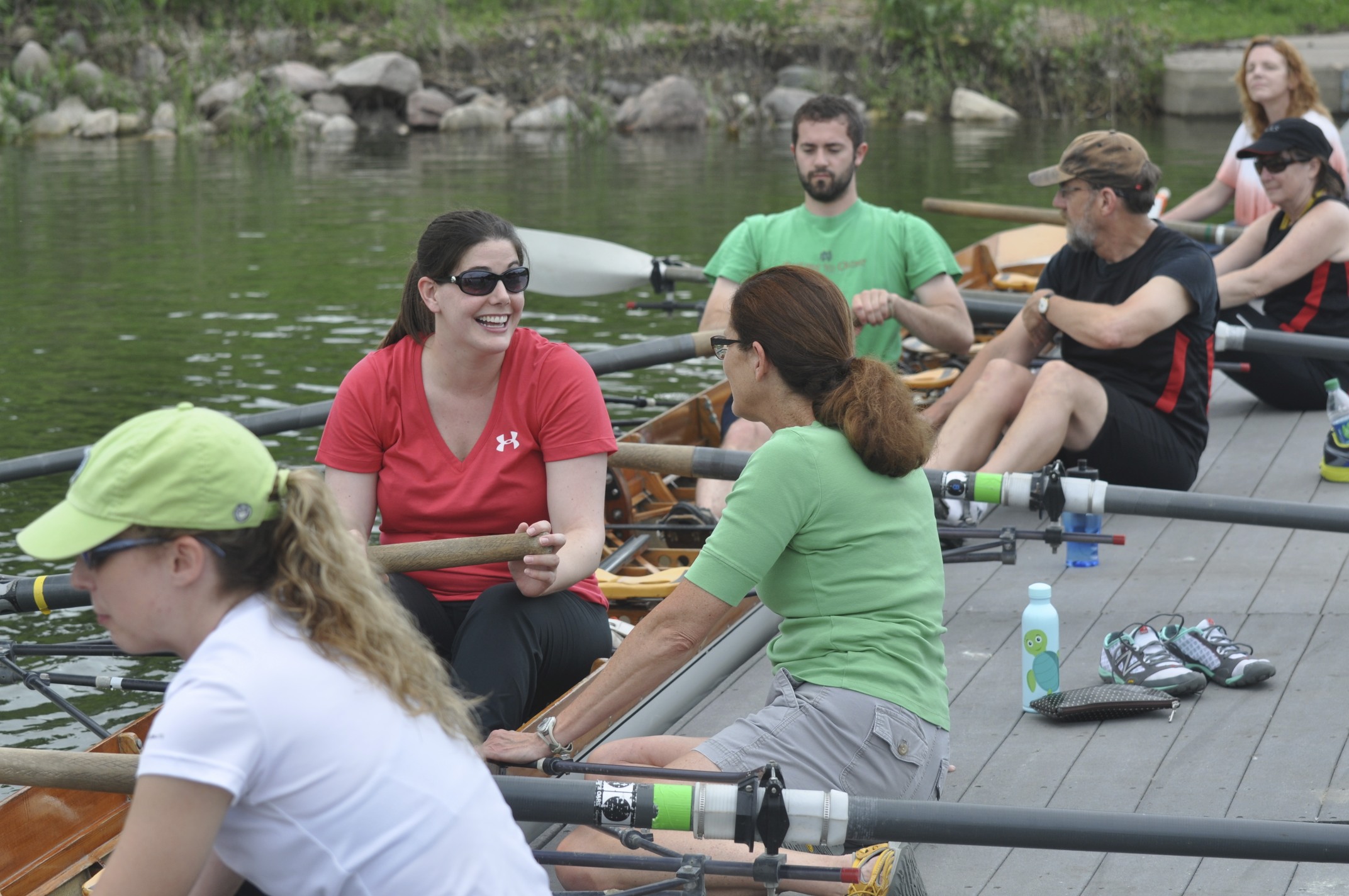 If you want to learn to row, the best way to get your feet wet is to join us on our annual Learn to Row Day on Saturday, April 22.
You can pre-register to be sure of a seat in a boat on novice day. To pre-register, click here. Once registration is open, you'll select a time for your introductory class. After your introductory class, you'll have the opportunity to sign up for the Novice Boot Camp weekend, which is the first step in joining the Des Moines Rowing Club. Spots for the Learn to Row Day are on a first-come, first-serve basis with priority given to those that reserve a time in advance, so reserve your spot as soon as possible.
Learn to Row Day Details
For your introductory class on Learn to Row Day, you'll spend approximately two (2) hours with us. You'll first learn the basics of the stroke on the erg (rowing machine), rowing terms, parts of the boat, and how to lift and maneuver the boat. Next, you'll go out in an eight-person boat with an experienced coxswain, stroke and bow rower. You'll apply the same basics of the stroke you learned on the erg and become familiar with a few basic commands from the coxswain. There is no commitment to join the club by participating in Learn to Row Day, but it's a great way to find out if you'd like to go through our Novice Boot Camp Weekend Program!
What should you bring:
Since the seats in a boat slide on tracks, it is recommended that you wear non-loose bottoms so that the fabric does not get caught in the tracks. Shoes are part of the boat, but you will need socks. And with any athletic adventure, you should have a water bottle.
Post Learn to Row Day Next Steps:
If you want to continue rowing after the Learn to Row Day, you have the option to participate in the Novice Boot Camp Weekend Program, where you can sign up for a spot in a crew in one of the four weekends that the boot camp will be held. This is a first-come, first-serve opportunity, so signing up soon after Learn to Row Day is the best way to secure one of the 12 seats in your preferred Novice Boot Camp weekend. To confirm your spot, you'll need to register under the Member Resources > Membership link. The fee for this program is $150 + an optional $25 boathouse donation. For more information, refer to Programs > Novice Program.
Then to continue training, graduates of the Novice Boot Camp Weekend will have the option to join the Des Moines Rowing Club Post Novice Graduate Program held at the Des Moines Rowing Club's main boathouse at Birdland Marina. This program will include additional training with a coach, and rowing 2x week to train for races beginning July 15, if desired.
If you have any questions about Learn to Row Day or the Novice Program, please contact our Novice Coordinator.
To pre-register for Learn to Row Day, click here.