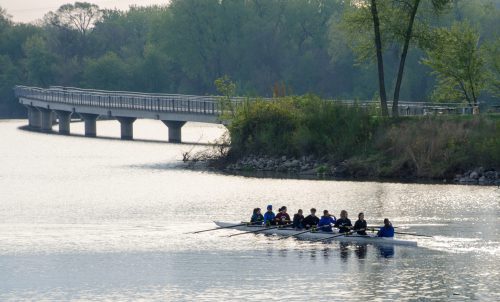 If you want to learn to row, the best way to get your feet wet is to join us on one of our annual Youth Learn to Row Days. Youth Learn to Row dates in 2023 are April 22, May 6 and June 3. Registration is through EventBrite. Spots for Learn to Row days are on a first-come, first-serve basis with priority given to those that reserve a time in advance.
After your introductory class, you'll have the opportunity to sign up for a season of Youth Rowing.
Learn to Row Day Details
Overview
A 2.5 hour session, designed to give a first taste of the sport, comprised of 60 minutes on land and 90 minutes on the water. Location: Guzman boathouse at Birdland Marina.
Format
You'll first learn the basics of the stroke on the erg (rowing machine), rowing terms, parts of the boat, and how to get in the boat and grip the oar. Next, you'll go out in an eight-person boat in a mixture of new learners and experienced rowers. You'll apply the same basics of the stroke you learned on the erg and become familiar with commands from the coxswain.
Limitations
Open to youth in Grades 8-12. Youth must be able to swim 200 yards without rest.
What to Bring
Regardless of the weather, dress in layers. If you wear shorts or pants they should be form-fitting. Baggy shorts and pants may get caught in the tracks on which your seat rolls back and forth. Don't forget your socks! Our boats are rigged with shoes that you will use while rowing so you will want a pair of socks. A baseball hat or visor is also helpful to keep the sun out of your eyes.
In Case of Inclement Weather
The instructor will notify of a cancellation via text. Rain dates are often set for LTR days.
Waiver
All participants will be required to sign our waiver. We hope to distribute this electronically ahead of the event, but we will also have paper copies the day of the event.
What happens after Learn to Row Day?
Graduates of the LTR day may decide to continue by joining a season as a Novice in our Youth program. Seasons are divided into Spring, Summer and Fall and include training with the coach, and rowing 3-5 times/week to train for races. After one season as Novice in the Youth program, you will have the option to continue by joining the Des Moines Rowing Youth Program.
Questions?
If you have any questions about our Youth Learn to Row Day, Novice Program or the Youth Program, please contact our Youth Head Coach.